A group of researchers at St. Jude Children's Research Hospital in Tennessee U.S stated on Tuesday said that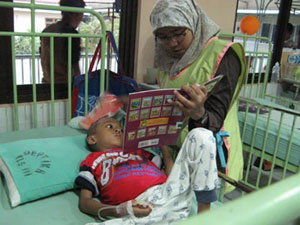 a child's response towards cancer treatment is affected by genetic variations. These small variations are more than 100.
The researchers aimed to find genetic variations in inheritance that affect the cell functions in children. 476,796 inherited variations known as SNPs; single-nucleotide polymorphisms were examined. The SNPs influence the cancer cell number that is left after the first administration of chemotherapy, also known as the 'minimal residual disease'.
To undergo the research, samples from two groups of children who were recently detected cancer patients, were taken. Around 102 inherited genetic variations were found in the results.
Mary Relling of St. Jude, whose study appears in the Journal of the American Medical Association, said, "We took those 102 and we tested whether they were involved in other related characteristics,". It was found that 21 of these were related to active and early response to the treatments, and 21 amongst the rest were linked with relapse.
The most common cancer found in children is ALL; Acute lymphoblastic leukemia, a cancer of bone marrow and blood. Death rate in this cancer is 20 percent and around 80 percent successfully fight it. Though, their response towards the treatments is varied.
It is hoped that these findings may help in future to treat leukemia in children more effectively than before. Jun Yang of St. Jude said "Such information might help clinicians use drugs more effectively to overcome the patient's own genetic variation and reduce the chance of treatment failure."